Back to Events
Certified Pool Operator (CPO) Class August 2023 - 2 Days
Thursday, August 3, 2023
at
8:00 AM (CDT)
to Friday, August 4, 2023 at 5:30 PM (CDT)
Event Details
Attention Managers, Supervisors, Maintenance, and Aquatic Personnel!
If you deal with commercial or residential pools, this class is highly encouraged.
Virtual or In-person Option
Instructed By:
David Turnage, Turnage & Associates
Payment:
Full payment for class will be due no later than August 4th (2nd day of class).
Were you aware that in Texas, all public swimming pools and spas have to be under the supervision and direction of a properly trained and certified operator?
Swimming pool and spa operators are obligated to provide clean and safe facilities for public use. Diseases can be spread by swimming in improperly treated water. The Certified Pool & Spa Operator® (CPO®) certification program is the world's leading education and certification program for keeping pools safer and keeping them open. Participants are trained in the most advanced techniques of chemical treatment, filtration, and mechanical system operation and maintenance. PHTA (Pool & Hot Tub Association) certifies individuals who successfully complete 16 hours of Certified Pool-Spa Operator instruction & pass the examination.
Day 1: Thursday, August 3, 2023 / 8:00am-5:30pm
Day 2: Friday, August 4, 2023 / 8:00am-5:30pm (Test Day)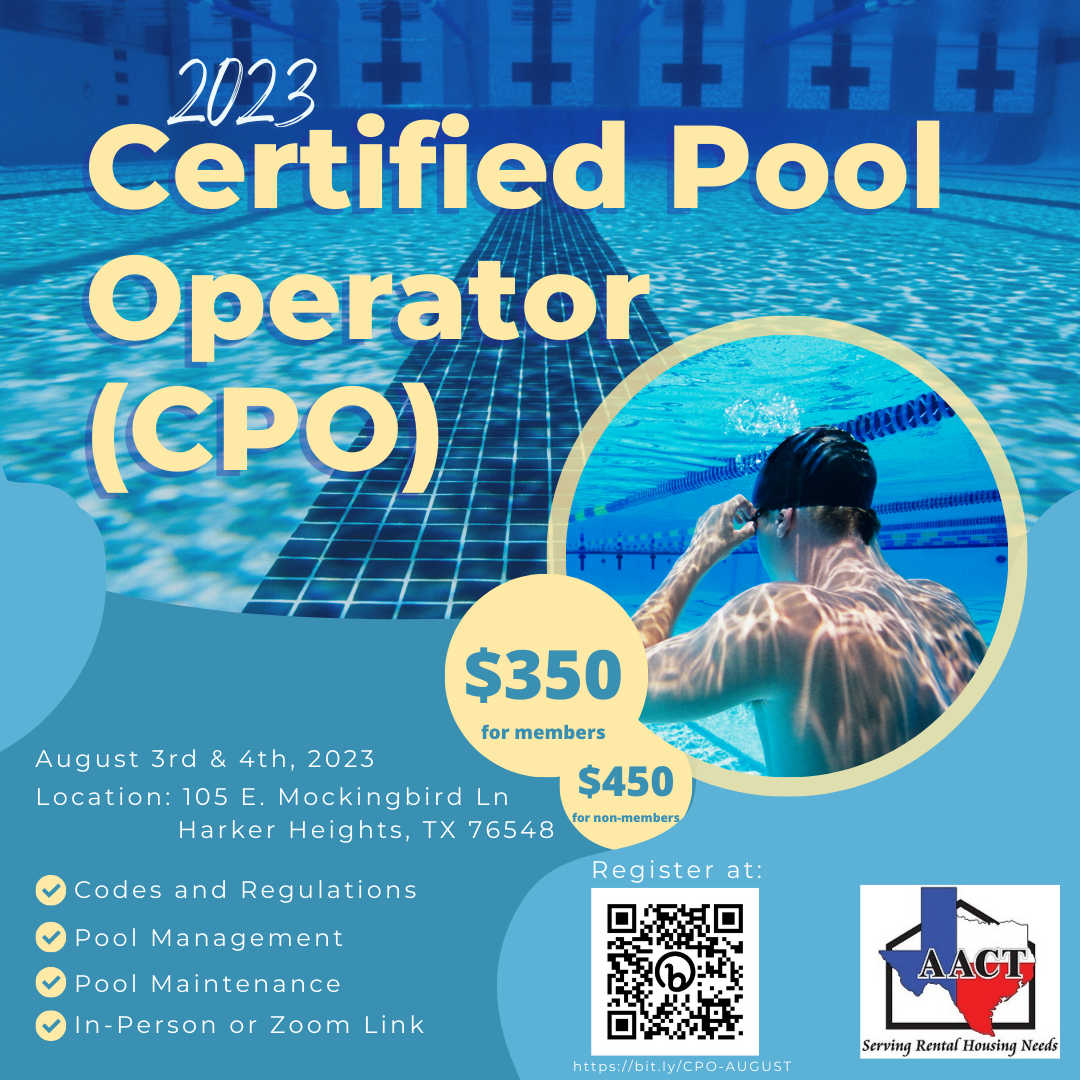 Class Materials:
Books and other learning materials will be provided on the first day of class. At the end of the second day of class the exam will be administered. The exam will be physical (Paper and Pencil) and will be proctored by the Instructor.
For More Information:
Kelly Vann (C)
Association Executive
Apartment Association of Central Texas
(254)432-7593
NEW RULE – (Apartments pools are usually classified as CLASS C Pools; effective January 2023)
265.205. Operation and Management of Pools and Spas.
(a) Required operator certification. All Class A, Class B, and Class C pools and spas shall be maintained under the supervision and direction of a properly trained and certified operator.
(1) The operator is not required to be on-site whenever the pool or spa is open.
(2) The operator may be responsible for multiple pools and spas and shall ensure any on-site staff is properly trained in day-to-day pool and spa operations and maintenance.
The trained and certified operator's name and contact information shall be made available to on-site staff, such as lifeguards, and to property management companies, or property managers, and shall be made available at the request of the department or a local regulatory authority.
(b) Operator training and certification. Operator training and certification can be obtained by completion of one of the following courses or their equivalent:
(1) the NRPA, "Aquatic Facility Operator;"
(2) the PHTA, "Certified Pool Operator;"
(3) the ASPSA, "Licensed Aquatic Facility Technician;" or
(4) an equivalent course which requires testing and provides certification and that is approved by the local regulatory authority."